Lightwaves Leisure & Community Centre

A Festive Get Together
All are welcome to come along and join us in festive celebrations on Saturday 18 December 2021.
Starting 3.15pm at Parklands at Chalenor Grove, then moving onto the Christmas tree outside Lightwaves Centre at 4.15pm, finishing at 4.45 at the Home Zone at the Jolly Pinder.
There will be hot chocolate, mince pies, music from The Lofthouse 2000 Brass band and festive songs from the Singing Mums Choir.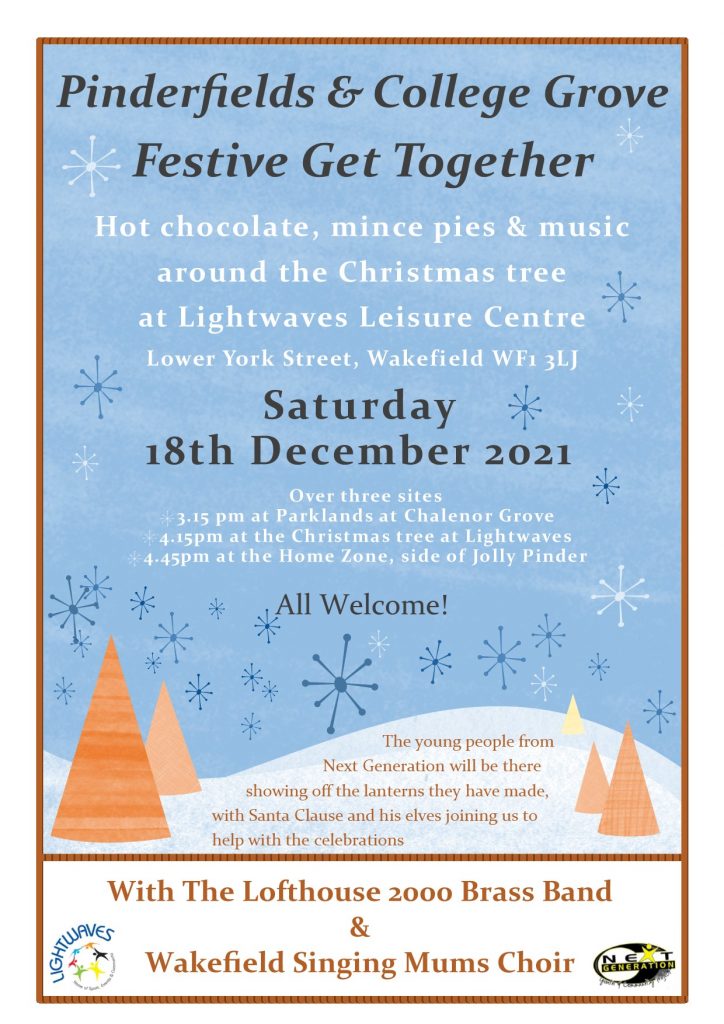 Open Community Consultation
We would like invite you to an open Community Consultation event about potential development at Lightwaves. On Wednesday 18 August 2021 we will have a drop-in session at Lightwaves Leisure & Community Centre between 4pm and 7pm when you can have your say.
We would like to hear your ideas of what improvements you would like to see at Lightwaves that could benefit you, your family and the local community. This could be specifically for your group, or about new or better facilities within the building, e.g. a better café, new furniture, improved sports and leisure provision for young people and others.
We want you to dream big because anything is possible.
We hope to see you there, but if you cannot, please send us your thoughts and suggestions to: [email protected]
Happy Healthy Holidays
Working with 5Sport and the Lightwaves Team to deliver the Wakefield MDC Happy Healthy Holiday Projects.  We have 50 places available over the next 4 weeks, starting on Monday 2 August 2021 for children and young people 8 years to 11 years. . 
Come and try new and existing sports, arts & crafts activities, mural painting,  gardening and environmental related tasks, cooking & baking, play board games and trips out.  
Make new friends and learn lots of interesting facts about keeping fit & healthy and your local area.  
Activities will be geared towards encouraging participation, skills development, increasing confidence and socialisation and developing each individual. 
Plus we will provide information for families relating to healthy food choices, meal preparation and general daily lifestyle options and if required signpost to organisation for extra help.  
If you have any questions please contact the team direct. 
To register your place either :
A) register online     https://lightwavesleisurecommunitycentre.coordinate.cloud/
B) pick up a Consent Form from Lightwaves Centre Reception between 11am and 3pm daily 
C) turn up on the day and complete the Consent Form to take part. 
D) phone 01924 360158 and leave your name, address, telephone number, and age of children & young people and we will return your call.
---
Step Up – Wakefield Council's flagship Employment and Skills Service 
Nathan from Step Up, Wakefield Council's flagship Employment and Skills Service will be at Lightwaves every WEDNESDAY 10am – 1pm.
Email: [email protected]
Call: 01924 303334

---
We are taking bookings! 17 May 2021
We are now open for your indoor sports and room bookings. Please call 01924 360158 or email [email protected] to book in advance.
Badminton
Table Tennis
Basketball
Children's Classes
Meetings
The centre will continue to operate in line with current government safety guidelines and those planning to visit will still be required to follow a range of COVID safe measures.
Please adhere to current government guidelines with group numbers and household mixing and ensure contact is minimised. Please complete the track and trace form on arrival at the centre.
Please note we are only taking card payments in the current climate.
Thank you and welcome back!
The Lightwaves Team


---
Hello Neighbour!
Hello Neighbour! is our new Check in and Chat on the doorstep project with Next Generation Youth & Community.
We will be going around the Pinderfield, College Grove and Eastmoor area knocking on doors on a Wednesday and Thursday afternoon, if you see us give us a wave.
If you need any help with; picking up your shopping, a food parcel, employment and benefits advice or just a friendly phone call during these difficult times give us a ring on 01924 360158.
Stay safe and don't forget it doesn't take much to say Hello Neighbour!
---
Getting Creative to Support Wellbeing
Creative Minds and People's Voice Media are delivering online Community Reporting Training for people in Wakefield. Please click on the flyer below for more information and please spread the word.
---
Drop In Advice Sessions
A new weekly drop in advice session from Citizens Advice Wakefield District will be held at Lightwaves every Wednesday, 10am – 12pm
PLEASE NOTE: At the moment this service is now being carried out using online appointments due to the current Government Lockdown restriction implied in January 2021).
Free and confidential information and advice on:
Welfare Benefits – Entitlement, challenging decisions, help with forms…
Work – Redundancy, pay, terms and conditions, dismissals…
Consumer – Faulty goods, problems with services, holidays, building work…
Housing – Landlord and tenant disputes, disrepair, evictions…
Family – Ending a relationship, looking after people, death…
And much more!
At the weekly drop in session our adviser will assess how best to assist you and will arrange further appointments (telephone or in person) if necessary, including referrals to our own Citizens Advice team of
– Debt advisers
– Fuel advisers
– Universal Credit Help to claim advisers
We are a good place to start as we can also signpost you to more appropriate local or national organisations for specialist help if required.
Citizens Advice Wakefield District is a registered charity. Although part of the national Citizens Advice network we are independent and run locally for the residents of Wakefield District.
Telephone: 03444 111 444 or visit: wakefielddistrictcab.co.uk
---
BIG WELCOME BACK!
Hello everyone! Lightwaves is pleased to announce that we are planning to re-open the centre on Tuesday 1st September 2020.
Please note that we will only be taking card payments/contactless at the moment.
We will also be operating the track and trace system and respectfully request that you sign in upon arrival.
We look forward to seeing you.
Thank you
The Lightwaves staff
---
COVID-19 Help and Translated Information
For language translated information on Coronavirus/COVID-19 click here.
Please see our help and information cards given out to the local community. #WakefieldCares
14 April 2020
---
Help Raise Money for Food Parcels – Buy a Meal for 5 People
Lightwaves Community Trust in partnership with Next Generation are doing a fund raiser with The Grand to help raise money for food parcels for people in Wakefield who are having to socially isolate.
What we would like you to do is buy a meal for 5 people, which you pay and click and collect from Dewsbury, and all the money goes towards helping people in our community through these difficult times.
Please visit www.shaadi-khana.co.uk to order.
Thank you.
01 April 2020
---
Volunteers Needed
Lightwaves and Next Generation Leisure and Community Centre are coordinating a volunteer response to the needs of our community and working alongside the Local Authority, NOVA, NHS and other partners in the Voluntary Sector in response to the current COVID19 pandemic. Can you volunteer?
Could you volunteer to:
– Chat to people on the phone who may be self-isolating so that they don't get lonely
– Do shopping or drop off other supplies
– Take someone's dog for a walk if they can't get out
– Make food parcels
– Do deliveries
– Help with admin
– Help with food bank
To volunteer visit https://volunteerwakefield.org/…/lightwaves-next-generation…
Let's do what we can to show just how much #WakefieldCares ?
27 March 2020
---
CORONAVIRUS – COVID-19 – UPDATE No. 1
Closure of all fitness and leisure services
We desperately did not want to close our leisure centre services, but given the government's subsequent requirement for all Fitness Gyms and Leisure Centres to close at midnight on the 20th March, we are now closed for all fitness and leisure activities. This will remain closed until further notice.
We are in the process of developing roles for voluntary helpers in the community centre. As soon as we have details on these we will pass on the information.
We will do our best to keep posting information and messages via our Facebook and website pages.
Thank you on behalf of all the staff, volunteers and trustees for all your support and please continue to keep safe.
If you have any concerns regarding this, you can contact the centre on 01924 360158 or email [email protected]
21 March 2020
---
A little bit about us…
Lightwaves Leisure and Community Centre is based in central Wakefield and offers a variety of sports, events and facilities. The centre is directed by Lightwaves Community Trust.
The overall aim is to provide the residents of Wakefield and neighbouring areas with a thriving community-run facility for sport, leisure, social, and community activities, in order to advance their wellbeing, health, and to promote cohesion within the community.
Lightwaves is home to various sports and clubs, including; Tomiki Aikido Club, Wakey Wheeled Cats Roller Derby Club and Azad Cricket Club.
Lightwaves offers facilities for five-a-side football, basketball, table tennis, badminton, volleyball and netball. We can cater for other kind of sports and leisure activities. Spaces are also available for events, parties and meetings.
Lightwaves is also home to Next Generation Youth and Community Project, JobZone, which offers support with finding training or employment, Young Lives, which offers support for groups working with children and young people, and AVA (Alliance for Voluntary Arts) which is a network of voluntary arts groups.